High school juniors and seniors attend North Star Expo for Annual Future Forest Stewards Event
Tuesday, August 01, 2023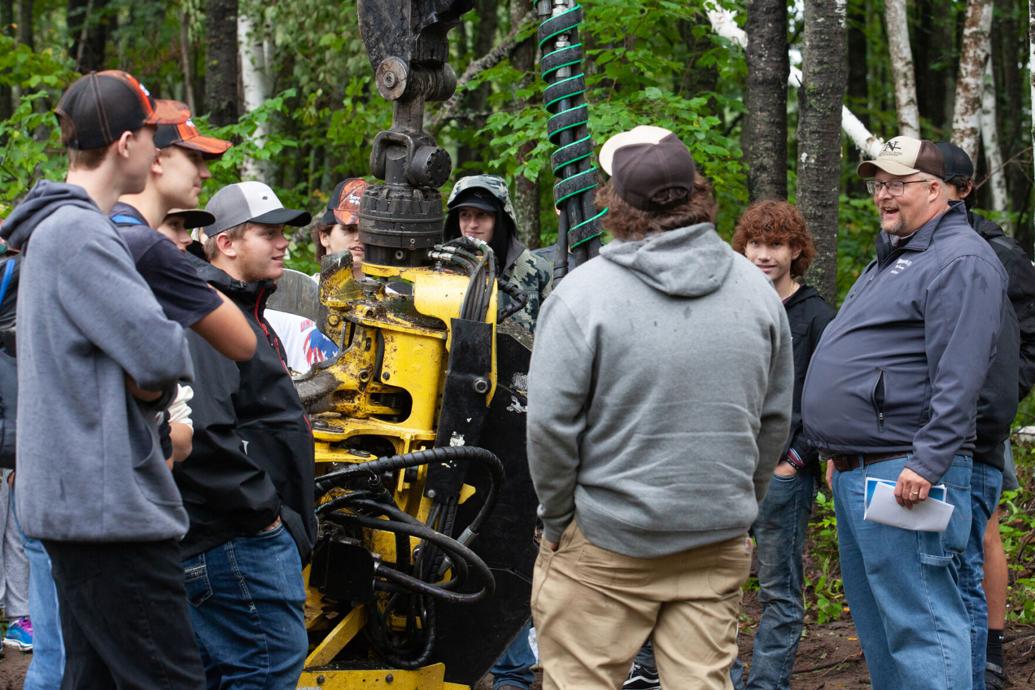 Released by The Herald Review on September 26th, 2022
"Future Forest Stewards (FFS) invited high school juniors and seniors to learn about careers in Minnesota's forestry industry at the Minnesota Timber Producers Association's 68th Annual North Star Expo. The expo was held Sept. 16 - 17, 2022 at the Itasca County Fairgrounds in Grand Rapids.
This year's FFS event was held on Friday, Sept. 16. More than 185 area students and teachers joined us from Bigfork, Chisholm, Coleraine, Deer River, Hill City, Grand Rapids, Nashwauk, and Mesabi East. It was a tremendous effort that will have lasting impressions on area students.
FFS worked closely with many partners to ensure an exciting educational opportunity for students. More than 44 volunteers, 11 sponsors, and 18 area organizations came together to host this amazing event. This opportunity gave students a first-hand look at the importance of Minnesota's forestry industry and the wide variety of careers essential to keeping the state a strong producer of timber and timber products. Careers include logging, trucking, forestry, millwork, mechanics, research, manufacturing and more.
The FFS Event covered several key educational sessions:
Logging Site: Explore the ins and outs of the business with a professional logger
Forestry 101: Discover the importance of managing forests in northern Minnesota
Forest Industry and Minnesota: Learn about the processes of the industry, from forest to timber products and everywhere in between
Jobs in the Industry: Meet with industry leaders to learn about job opportunities in the region
Equipment Simulators: Take the hot seat in a forwarder and a feller buncher simulator and test your skills in the woods
Active Harvest Site: Watch a local loggers work to cut at an active harvest site and join students for a small group conversation about working in the woods
At each session students were able to ask questions, explore career options, and learn about the forestry industry directly from professionals in the field providing a unique opportunity to network and build relationships that will strengthen their educational and career prospects.
FFS was created through a partnership with the Grand Rapids Area Chamber of Commerce's Forestry Affairs Committee with a goal of shepherding the next generation into careers in forestry. Through organizing a job fair in conjunction with the North Star Expo, FFS aims to provide high school students opportunities to explore the wide range of good-paying jobs in the industry.
Wood and timber products are one of Minnesota's valuable natural resources. The forestry industry provides a wide variety of good-paying jobs in the region with benefits, flexibility and room to grow. As much of the industry's workforce approaches retirement, it is essential to attract the next generation with opportunities to build careers close to home.
Aditionally, jobs in the forestry industry include a wide spectrum of qualifications, ranging from entry-level positions with on-the-job training, to jobs that require an associate's or bachelor's degree.
Events such as Future Forest Stewards provide a critical link between today's youth and future opportunities in the workforce. Not only can they see machinery in action, but they can also visit with those actively working in the industry. We are proud of the partnerships that came together to make this event possible.
Future Forest Steward sponsors included 49ers, APEX, Grand Rapids Area Chamber of Commerce, Huber Engineered Woods, IEDC, L&M Fleet Supply, Minnesota Forest Resource Partnership, Minnesota Timber Producers Association, Minnesota Power, PotlatchDeltic, Sustainable Forestry Initiative, and UPM Blandin."
Find the full article here: High school juniors and seniors attend North Star Expo for Annual Future Forest Stewards Event | News | grandrapidsmn.com